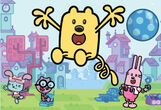 Me And My Now 4 Year Old Brother Were Watching Wow Wow Wubbzy And The Episode We Saw Was Called "WUBBZY666" So We Decided It Was Fine But First We Saw Was Widget Hung By A Noose In The Corner Was Daisy Now Hanging The Rest My Brother Screamed And Fell Asleep With A Nightmare So I Continued To Watch It And Daisy Aimed A Gun In Her Mouth And The Episode Ended So She Committed Suicide I Contacted Nick Jr And Bob Boyle The Creator Replied.
" How Did You Get That I Am So Deeply Sorry Basically A Hijacker Found The Tape And Edited It And It Was Shown Everywhere And I Got A Bunch Of Complaints" ~Best Wishes Bob Boyle Wubbzy666~
Ad blocker interference detected!
Wikia is a free-to-use site that makes money from advertising. We have a modified experience for viewers using ad blockers

Wikia is not accessible if you've made further modifications. Remove the custom ad blocker rule(s) and the page will load as expected.