What Is R&D TV?
Edit
R&D TV is the vanity plate used for the 2004 version of Battlestar Galactica. The company was set up by writer/developer Ronald D. Moore and producer David Eick. They announce their idea, sometimes spouting out random gibberish or being interrupted by one or another. Then, either one of them will be cartoonishly beat up, massacred or eaten up in some way, Notably, this logo varies depending on the episode. Now Onto The Story.
The Story
Edit
It Was Just A Regular Day As Always, Browsing Through Youtube, Watching Random Crap, And I Think To Myself, I Wanna Watch Something On Youtube, Someone Did Recommended To Watch A Show Called Battlestar Galactica, Battlestar Galactica continued from the 2003 miniseries to chronicle the journey of the last surviving humans from the Twelve Colonies of Kobol, after their nuclear annihilation by the Cylons. The survivors are led by President Laura Roslin and Commander William Adama in a ragtag fleet of ships with the Battlestar Galactica, an old, but powerful warship, as its command ship. Pursued by Cylons intent on wiping out the remnants of the human race, But Anyways, I Typed In "Battlestar Galactica"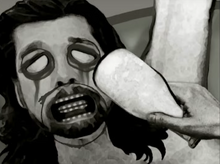 Watching It Was Great, I Was Excited To See All The Action, Then Again, The People Who Made It Were Kind Of Silly. After The Episode. I Saw The R&D Logo, I Always Got A Good Laugh At The Logos, But. Not This Time,
The Logo Starts Out With Ronald Saying "I Think We Should Blah Blee Blee Bla Blo Bla" As Usual, Just Then, David Got Real Ballistic And Hit Ronald With A Milk Bottle, Then It Showed A Closeup Of Ronald Getting Hit With A Bottle In A Scary Way, Ronald's Face Was Really Disturbing, His Eyes Had No Pupils, They Were Bleeding, He Had An Extra Set Of Teeth And There Were Circle Drawings On His Eyes And Mouth, This Gave Me Nearly A Heart Attack And I Felt A Chill Down My Spine, I Then Took A Screenshot Of The Disturbing Image, Then Suddenly Out Of Nowhere, My Computer Make The Most Loudest Noise Ever, Making Me Fall Out Of My Chair, Then My Computer Crashed And Restarted, The Image Was Still On My Computer. I Still Fear Of This Image, It's Just, I Can't Really Tell.
After What Happened
Edit
I Got On My Other Computer, A Laptop. The Other Computer Isn't Working Right, I Forgot To Mention That. Anyways, I Looked Up "R&D Logo Milk Bottle" What Came Up Was A Facebook Message, This Is What It Said.
"R&D TV Made A Logo So Messed Up, It Wasn't Even Aired, Apparently What Happened Was That David Was Sick And Gotten The Flu, He Was Having Hallucinations Too, Because He Was In A Hot Room. When The Logo Was Made, They Did Not Decide To Air It, But Someone Got A Hold Of It And Uploaded By A User Named "rossman20" And Then Abandoned His Account" A Couple Of Comments Said, "That Actually Happened, Huh" And "Waht" That Comment Had Bad Grammar, So I Checked The Account, But It Was Gone. I Couldn't Find The Video, However, The Image Is Still Here, Hopefully, No One Has To Go Through The Same Problem I Did
Ad blocker interference detected!
Wikia is a free-to-use site that makes money from advertising. We have a modified experience for viewers using ad blockers

Wikia is not accessible if you've made further modifications. Remove the custom ad blocker rule(s) and the page will load as expected.